Guys and Gals all out on a cloudy day (yes, we like cloudy) picking cukes. Fun!
Total pounds gleaned:
Cucumbers: 1975#
Yellow squash: 30#
Grower: Skipper Russell
(we thank Skipper for always providing fresh produce for Haywood County each year)
Total # volunteers: 22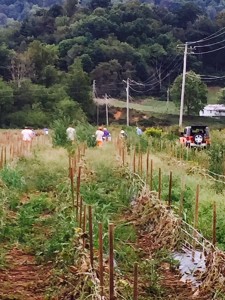 Those were loooong rows of cucumbers!
Cucumber Distribution:
ARC: 50#, transported by Sheriff's office
(Thanks to the Sheriff, several trustees were in the field doing a much needed and remarkable job for the Gleaners!)
Broyhill: 75#,
Canton Community Kitchen: 75#
Canton Senior: 25#
Cavalier: 150#
Chestnut #1: 25#
Chestnut #2: 25#
Cindy Lane: 25#
Grace Pantry: 100#
Great Laurels: 150#
Haywood Christian Ministries: 150#
Haywood County CAPS: 25#
Haywood County Detention: 200#
Hickory Hollow: 100#
Life Span: 25#
Maggie Valley Methodist: 100#
Maggie Senior: 25#
McCracken: 50#
Maple Leaf: 50#
North Hominy: 75#
Open Door: 125#
Pathways: 50#
Reach: 50#
Richland: 25#
Salvation Army: 25#
Timber Ridge: 150#
Waynesville Senior: 25#
Gleaners took home: 25#
Yellow Squash distribution:
North Hominy pantry: 30#